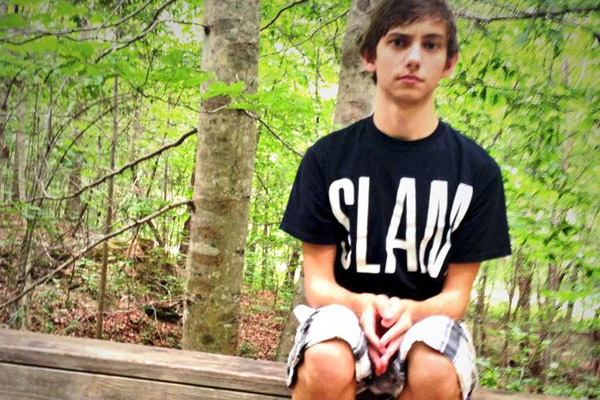 My name is Ian Blackmore. I am 17 and Ive only been producing electronic music for about 1 year, and it was only 2 years ago that I first became interested in EDM. The first electronic track I ever heard, I think, was Felix Da House Cat's Heavenly Mix of Sinnerman with Nina Simone. For all of my life before that, I had only listened to Alternate rock or Pop rock. I really liked the music, but there was this space that was missing within each song in those genres. I didn't know what that space or thing was, and I still couldn't tell you what it is, but the first time I heard an electronic song, it freaked me out. It literally stopped me in my tracks because it had that "space". It fulfilled the void in my head that I had been trying to find within other genres like Pop rock and Alternative rock. After I had my first glimpse of electronic music, I was thirsty for more, but I still didn't know what it was called! I had only heard part of a song and I didn't even know what the song was classified as. After a few days of googling, trying to figure out what I had just been exposed to, I finally came across a link to that track "Sinnerman" under the google search "club dance" or something like that. See, I had no idea what I was looking for, I just knew it was out there somewhere. 
After I found that first electronic track, which I know to be classified as between the lines of Progressive and Tech house, I started finding other tracks within the same genre that also filled that space in my head. I couldn't get enough of this new world of music I had discovered. It was like I had been destined to find it because it clicked for me as soon as I was exposed to it. But keep in mind I still had no idea that there was a whole world of EDM I had not heard of yet. I was just hearing the names "Deadmau5" and "Daft Punk" for the first time. I bought a few songs of iTunes and just chilled for a few months soaking in those tracks, all within the House genres. I didn't really need more than that. It completed me.
After I had had my fill of those tracks by Daft Punk and other like-minded artists. I was exposed to the next world of EDM; Dubstep. One of my friends showed me that track that "everybody" was showing to "everyone". A track by Skrillex that is now the most popular dubstep track of all time, Scary Monsters and Nice Sprites. It was just like all those videos you've seen on youtube where two people sit down with a computer, one of them a Dubstep fan, the other an unknowing victim. You watch as the victim is dazed and confused, and their eyes open ridiculously wise as the pre-drop lyrics "Yes, Oh My God!" play through.
Then as the growls and screams that compose the chorus of the track begin, the victim realizes they've never heard anything like this before. This was the exact situation the first time I heard dubstep. This experience was through some really crappy computer speakers, so mostly all I heard was white noise and a few screeches, and I did not really like it. The next time I heard that song was on Pandora through some pretty snazzy in-ears, and that time I actually did like it. I loved the huge drums and the aggressive character of the track. So I started to research what dubstep was. I found artists like Skrillex, Alvin Risk, DJ Drunken Master, TC, Subfocus, and Rusko. From these artists I heard many different types of dubstep. There were some tracks that were very up-tempo and aggressive, and others that were very atmospheric. I mainly focused on the heavier, grimier tracks because they fascinated me. I wondered how those sounds were created. Were they recorded in the real world or synthesized somehow. 
At about this point I met a guy at my school who was an exchange student from London. For the first few weeks he was wildly popular with everyone because of his accent and way with words. He was the only person in our school with this accent, and it fascinated everyone. We spent entire class periods just asking him questions and listening to him talk. After the novelty of that died down a bit, he befriended me and one other guy. We sat together every day at lunch and just talked about life. The topic of music never even surfaced until about 3 months after he came to the school. I heard him say something about Dubstep, and I was just like "Whoa, there are other people at this school that like that?!" I talked to him about it and we discussed our favorite artists and sub-genres, because by that time I was a bit more versed in the electronic music world. Then he told me about how he had this program that let you create your own music. 
BOOM, that's where Mellowrush started, because that night I was at his house learning my way around the basics of Ableton Live. He gave me a copy of the free demo version of live on a flash drive along with some software instruments, and I started making my own projects, which absolutely sucked. I was making the most horribly produced tracks I had ever heard. The synthesizers had no depth or character. The drums were so quiet that a groove was impossible to find, but this was all because I had no idea what I was doing. It was like trying to make a movie the day after you learned the word "animation". I was tempted to just put the program away and find another easier hobby. Thank God I stuck with it. Ableton is a very complicated program. Once you think you've figured it out, another layer of depth pops out. You figure out how to do more and more and more, and I don't think I'll ever stop learning things about the program. I just kept spending time screwing around with random widgets, software instruments, and effects, and I eventually started making songs that I thought were good enough to actually show people.
Until now, I've mostly stuck with producing atmospheric tracks. Ove always wanted to make a track with insane wobbles and growling, screeching sound effects, but I still have to figure out how to do that. I make atmospheric EDM because it's all I currently have the skills to do. 
I hope one day I'll have the experience to impress artists and groups like Kill The Noise, Dubsidia, Skrillex, 12th Planet, Bassnectar, Noisia, Excision .etc. That is where I am headed. I hope each release I put out will turn more and more heads that respect the artists I respect. I hope that I can impress the same fans that like those artists. I don't know if I will ever have the opportunity to do what those artists have done. I don't know the future of my story; I only have a dream.