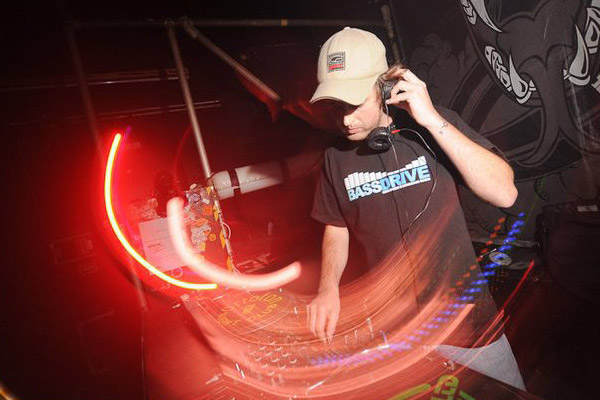 Undersound aka Gareth Evans from Cardiff in Wales took up music at the age of 5 and it was clear from such an early age that he had a talent that would go on to bring him world renound accolade in the music industry. He has become proficient in playing a variety of instruments including the French horn, Guitar, Drums, Piano, Trumpet, Tuned Percussion, cello and Flute. And for the last 8 years teaching music to the next generation of budding musicians.
In November 2006 he was asked to play guitar and piano on High Contrast's album "Tough Guys Don't Dance" which opened the door to the Drum and Bass genre for Undersound, being truly inspired by the high energy as well as the musical diversity in the genre he knew that this was the way forwards for him and started producing and DJ'ing Drum and Bass himself. Within a matter of months his producing went from strength to strength, fine tuning his own style and eventually gaining him regular air play worldwide on many stations including Bassdrive, BBC radio 1, 1xtra, Origin fm, Kool fm, BBC Asian Network, Jungle train, After dark radio, Dark wax radio and Kiss fm.
In early 2008 he teamed up with London label 'Future Thinking Records' who signed 'Meet me in my shadow'. Following this he has had a string of releases including a full length album, two E.Ps and many singles on labels such as Influenza media, Hustle Audio, Luv disaster records, Sublife recordings, Good looking records, Phunkfiction records, Think deep recordings, Nexgen records, Vibration records, Black Reign LTD, Point 9 Audio and Ennex records.
In 2010 Undersound was one of the first artists to be signed and released by the Brand new Label "BassdriveTunes". This shows the confidence the worlds number 1 Drum and Bass radio station had in his ability to make great music. He has since released another 2 tracks on the Label, " Shadow Thinkers " and the scintillating " Soul Testify " showcasing the versatility of Undersound to not only make great dancefloor tracks but to also utilise his vast musical knowledge to make "soul testify" one of the outstanding vocal tunes of 2010.
As his reputation grew, other artists were soon lining up to work with him, collaborating with producers such as Andy Sim, Dan Marshall, High Contrast, Lung and Amaning. He is also in demand for re-mixes proving he's not confined to one music genre, having reworked '26 Police' for hip-hop/reggae acts Savana and Junior Reid, 'Lost voice' for Oxford Indy sensation 'Ute', a handful of remixes for house producers Karl G and Jamsie and Born to dance records. In 2011 a remix of 'Still Standing' for Miami girl group 'Anything But Monday' is soon to be released on one of the World's biggest music labels Universal which is sure to make Undersound a household name.
As a musician Undersound's musical talent is becoming more in demand by some of the most recognised artists in Drum and Bass such as High Contrast, Blame, Spy and John B. And is recently gaining respect as vocalist, having formed a great working relationship with house producers Karl G and Jamesie. There is lots in the pipeline here , and the already released 'Never should' has gained radio and live support from Judge Jules who says "Never should is one of my highlights of Ibiza 2010".
2011 will hold many new and exciting things for Undersound with many varied solo projects on the go including, Rock, hip hop, funk, ska, contemporary classical, more session work, collaborations with Karl G and Jamesie, and of course plenty more great Drum and Bass tunes.